Company Profile
Asian Eye Institute is a world-class eye institute that puts the Philippines on the map of quality health care. Established in 2001, the institute serves 60,000 local and foreign patients every year and is at the forefront of efforts to make breakthrough technologies for eye care treatment available in Asia.
It provides a full range of specialized medical services, delivered in the safety and comfort of modern facilities, and using some of the most advanced technology available in the world.
Our dedicated core team of specialists is trained at reputable institutions, such as the Harvard Medical School, and is assisted by competent medical staff. We provide expert treatment borne from their rich professional experience and knowledge, collaboration with fellow ophthalmologists, and continuing education and research. Our medical team is recognized both here and abroad as leaders and key resources in their respective fields.
Such expert treatment is delivered in the safety and comfort of our facilities, and with the careful attention of our support staff. Our patients enjoy a high standard of care in a gracious environment while benefiting from some of the most advanced technology available in the world. Our International Customer Service provides free language interpretation services and facilitation of visits, specifically to Japanese, Korean and Indian patients. With this assistance, together with the convenience that our Concierge Service offers, foreign patients and medical travel patients can expect ease and comfort during their treatment at Asian Eye.
Asian Eye's clinics are located at Rockwell Center, Makati City; TriNoma, Quezon City; Mall of Asia, Pasay City; and Commercenter Alabang, Muntinlupa City. It also has the Family Vision Center inside the Qualimed Clinic at the UP Town Center, a primary vision care center that offers early disease detection and addresses the different vision needs of individuals based on their lifestyles. To serve the broader market, Asian Eye launched EyeSite, an ambulatory eye center located inside the Qualimed Surgery Center at Ayala Fairview Terraces and St. Frances Cabrini Medical Center in Sto. Tomas, Batangas.
Asian Eye's commitment to excellent service and social responsibility has been recognized by prestigious international organizations. It is ISO 9001:2008, 14001:2004 and OHSAS 18001:2007 certified and is accredited by the Accreditation Canada International. Asian Eye is the first and only ambulatory eye center in the Philippines to have international healthcare accreditation. It was also recognized by the Investor in People (IiP) for the role of its human resources in the achievement of organizational success – another first among the eye centers in the country.
Asian Eye was also accepted into two international eye associations – ASEAN Association of Eye Hospital (AAEH) and World Association of Eye Hospitals (WAEH). It is the only WAEH member in the Philippines. WAEH is a group of eye hospitals all over the world that seeks to improve treatment results, experience and care of patients through exchange of knowledge and practices in delivery of eye care.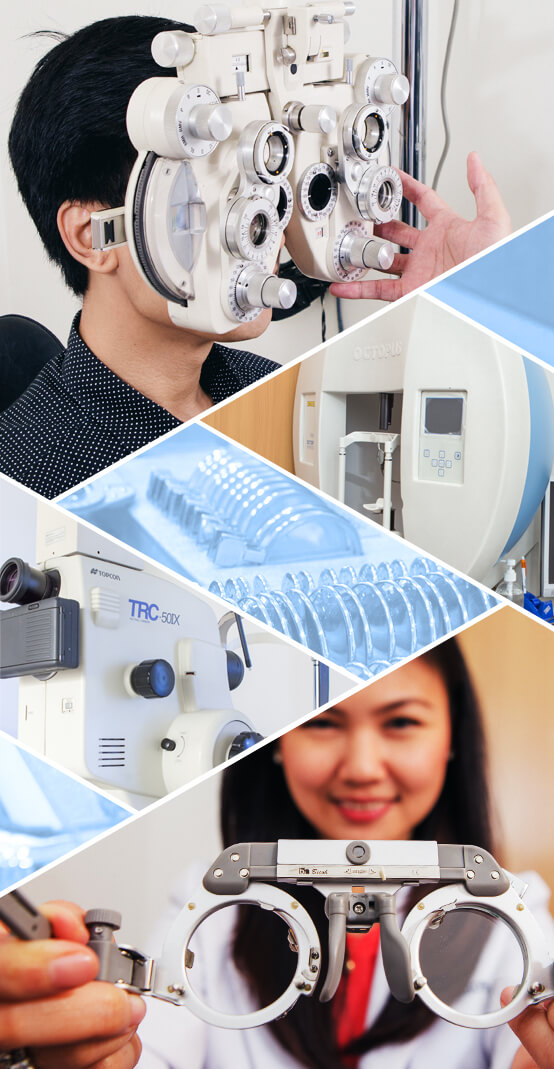 Our Mission
We deliver to all our patients the highest quality eye care on a par with the best in the world.
We make high-quality eye care available and accessible to the Filipino.
We advance the science and practice of ophthalmology and optometry in Asia and the Pacific Rim.
Our Vision
We are a renowned and lasting institution, recognized as a center of excellence in the delivery of high-quality and innovative eye care services in Asia and the Pacific Rim.
We are a vital national and international resource in the diagnostics and treatment of eye diseases and visual impairment.
We achieve these through a highly committed, motivated and competent team of doctors and staff.
Company History
Asian Eye Institute is a culmination of the vision and perseverance Lopez Group of Companies Chairman Emeritus Mr. Oscar M. Lopez and world renowned Filipino-American ophthalmologist Dr. Felipe I. Tolentino.
For many years, Mr. Lopez traveled to Boston to avail of the specialized treatments for his glaucoma. During his visits, he established an enduring friendship with Dr. Tolentino. They recognized the Filipinos' urgent need for quality eye care, leading them to establishing a center of excellence in eye care in the Philippines.
Dr. Tolentino then selected Harvard-trained ophthalmologists with different specializations to be the core medical team of Asian Eye. Mr. Lopez, on the other hand, mobilized his management team to organize and establish the center, with the support of business and public service leaders who believed and shared the same vision. Through their efforts, the far-reaching dream of providing quality eye care to Filipinos is now a reality.
Asian Eye shareholders include some of the most distinguished names in the Philippines and in the world, known not only for their achievements in their respective fields but also for their social consciousness and humanitarian spirit. With their support, Asian Eye fulfills its commitment for excellence in service to patients, colleagues and the community.
ABS-CBN Broadcasting Corporation

First Philippine Industrial Corporation

Manila Electric Company

Pan Malayan Management and Investment Corporation

The Philippine American Life and General Insurance Company

Sumitomo Corporation

Pilipinas Shell Retirement Fund

First Philippine Holdings Corporation

Rustan Marketing Corporation

Rustan Investment and ManagementCorporation

Sunnyvale Development Corporation

Phinma, Inc.

Bacnotan Consolidated Industries, Inc.

Emar Corporation

Triabo Development Corporation

Mr. Oscar M. Lopez

Dr. Felipe I. Tolentino

Mr. Washington Sycip

Mme. Kazuko Siazon

Mr. Manuel Pangilinan

Mr. Willie Chua and/or Nickson Chua

Dr. Robert Ang and/or Ms. Katherine Chua
Patient Focus

We regard as paramount patient welfare and happiness, and constantly search for better ways to heal and serve our patients.

Excellence

We demand excellence of ourselves, and fulfillment in making a unique contribution through our work.

Integrity

We earn the trust of our patients, partners and colleagues by adhering to ethics and acting with integrity.

Teamwork

We respect each other and our team, and are united by shared goals and aspirations.

Passion and Commitment

We celebrate each success with joy and renewal of out commitment to the institute and its mission.