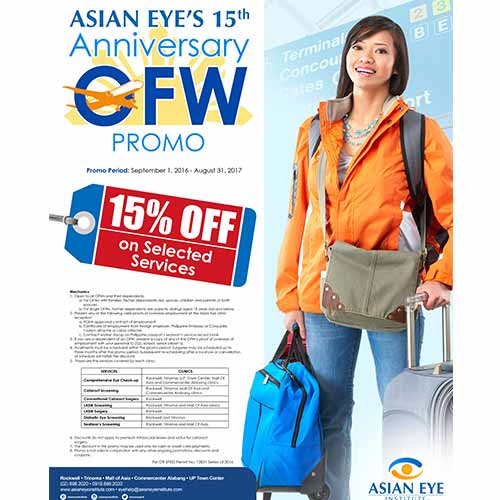 MECHANICS:
Qualifications
1. Open to all OFWs and their dependents.
For OFWs with families, his/her dependents are: spouse, children and parents of both spouses.
For single OFWs, his/her dependents are: parents, siblings aged 18 years old and below.
How to Avail
2. Present any of the following valid proofs of overseas employment at the Asian Eye clinic reception:
POEA approved contract of employment
Certificate of employment from foreign employer, Philippine Embassy or Consulate, Tourism attaché or Labor attaché
Contract worker stamp on Philippine passport / seaman's service record boo
3. If you are a dependent of an OFW, present a copy of any of the OFW's proof of overseas of employment with your personal ID (SSS, school, senior citizen's).
4. Availments must be scheduled within the promo period. Surgeries may be scheduled up to three months after the promo period. Subsequent re-scheduling after a no-show or cancellation of schedule will forfeit the discount.
Where to Avail
5. These are the services covered by each clinic:
Services
Clinics covered
Comprehensive Eye Check-up
Rockwell, Trinoma, U.P. Town Center,

Mall Of Asia and Commercenter Alabang clinics.

Cataract Screening
Rockwell, Trinoma, Mall Of Asia

and Commercenter Alabang clinics.

Conventional Cataract Surgery
Rockwell
LASIK screening
Rockwell, Trinoma and Mall Of Asia clinics.
LASIK Surgery
Rockwell
Diabetic Eye Screening
Rockwell and Trinoma.
Seafarer's Screening
Rockwell, Trinoma and Mall Of Asia.
Others
6. Discounts do not apply to premium intraocular lenses and victus for cataract surgery.
7. The discount in this promo may be used only for cash or credit card payments.
8. Promo is not valid in conjunction with any other ongoing promotions, discounts and coupons