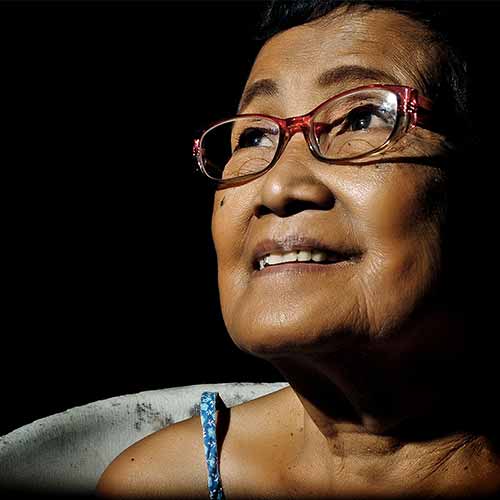 With age comes wisdom, but it frequently comes with cataract too.
Cataract is the clouding of the normally clear lens of the eye. It is a common cause of vision loss in people age 60 and above. Cataract causes blurry vision and makes it difficult for patients to difficult to see at night or in low light. That is why many patients need a brighter light for reading and doing other activities.
However, cataracts do not only affect the elderly. Asian Eye Institute Retina and Vitreous Disease Specialist and Uveitis and Ocular Immunologist Dr. Cheryl Arcinue explains, "Some people believe that cataracts are for old people, but younger people, children and even infants can have it, too. They are likely to develop early cataracts especially if they have a family history of cataracts or have diabetes, hypertension, eye trauma or high nearsightedness. Smoking, obesity and too much sun exposure are also risk factors."
The development of cataract is gradual and painless, that is why patients are usually unaware they have it. At first, the cataract may only affect a small part of the eye's lens. As it grows, that is when they start to notice the signs and symptoms.
Patients do not have to wait for the cataract to be "ripe" before it is removed. "We can remove the cataract if they are already having difficulty doing their daily tasks like reading, cooking or driving," says Dr. Arcinue, "The only effective way to remove it is through surgery where the clouded lens is removed and replaced with an artificial lens or intraocular lens. Once removed, the cataract does not grow back."
Contrary to common beliefs, cataract surgery is among the safest and most common surgical procedures. Asian Eye has been performing cataract surgeries since 2001. At present, it performs the Victus Femtolaser Cataract Surgery, a bladeless surgery that makes it easier to remove the cataract.
"The Victus Femtolaser technology brings higher level of precision as it uses less energy to break and remove the cataract. Less energy means lower chances of getting eye inflammation and faster healing. It also promotes better visual outcome as it creates a perfectly round opening in the capsule of the cataract, so there is a more stable position to place the IOL." At present, the Victus Femtolaser technology is only available at Asian Eye Institute.
Eye examinations can help detect cataracts and other eye problems at their earliest stages. Asian Eye offers comprehensive eye exam and cataract screening. It is located at Phinma Plaza in Rockwell Center, Makati with satellite clinics in TriNoma, Mall of Asia, Commercenter Alabang and Family Vision Center in UP Town Center. For inquiries, you may call 898-2020 or email eyehelp@asianeyeinstitute.com.