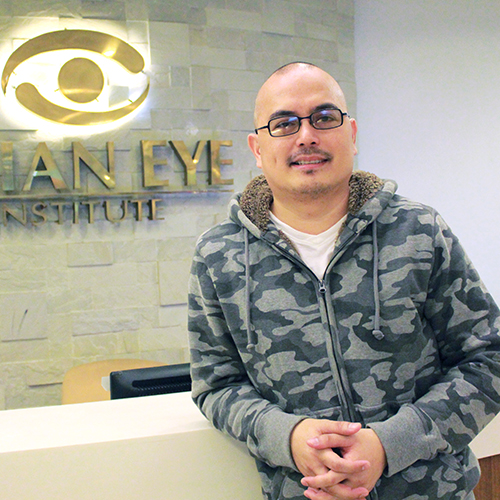 "One day, I just woke up to cloudy vision," says 39-year-old banker, Charlie Mendoza. Since then, he would experience frequent headaches and dizziness.
"Once, I was driving along EDSA, but I couldn't see a thing! Good thing it was traffic, so I just followed the tail lights to get to my destination," he recalls, "I thought of changing my diet, but it didn't work either."
Mendoza didn't get his eyes checked right away. But while he was taking was taking some tests at Hi-Precision Diagnostics in Power Plant Mall, he spotted EyeScan. EyeScan is an eye disease pre-screening service that can detect signs for potentially blinding eye diseases like cataract, glaucoma, retinal problems and corneal and external disease.
"My EyeScan test results recommended me to immediately seek consult with a glaucoma specialist," he says. During the consult, he found out that he had abnormally high eye pressure, a telltale sign of glaucoma. "My doctor insisted that I undergo the tests. It felt urgent. It turns out, I have glaucoma."
Glaucoma is a group of eye conditions that is often linked to an increase in eye pressure. Asian Eye Institute Glaucoma Specialist Dr. Edgar Leuenberger explains, "Normally, there's fluid that flows in and out of the eye through a mesh-like channel. When this channel gets blocked, the fluid can't flow out at its normal rate. The pressure then builds up and damages the optic nerve. The optic nerve carries information from the eye to the brain, so any damage will be permanent and can lead to blindness."
Glaucoma doesn't cause any pain or discomfort at the onset. "That is why it is tagged as the silent thief of sight," says Dr. Leuenberger, "Like Charlie, most glaucoma patients don't have any idea they have glaucoma. It has no early warning signs, but as it progresses, they may suffer from loss of peripheral or side vision. They can also experience severe headaches, blurry vision, eye pain, eye redness or nausea. They may also see halos around lights."
Anyone can get glaucoma. It's more common in people over 60, but it can also develop in children or teenagers. Factors include having eye conditions like nearsightedness and farsightedness, suffering from an eye injury or surgery or taking medications, especially steroid eye drops, longer than the prescribed time.
In Mendoza's case, he used a certain eye drop medication for years. Mendoza shares, "Before, I would suffer from chronic dry eyes and redness. I was prescribed with eye drops by another doctor, and using it comforted me. It felt like my eyes were better. I probably used it for 4 to 5 years. I didn't know that I was only supposed to use it for a week."
Dr. Leuenberger urges patients to check with their doctors about their eye condition and any prescribed medicine to be very particular. Most importantly, he encourages patients to monitor their eye condition regularly through an eye exam. "It pays to get an eye exam every year. The earlier we detect glaucoma, the higher the chances that we can limit vision loss or slow down its progression. There are different treatments available, such as eyedrops, lasers and other surgeries, to manage the condition."
"It also helps to know your family's eye health history. Glaucoma tends to run in families, so if any of your family member has it, you can develop it, too."
Today, Mendoza goes to regular eye checkups and uses prescription eyedrops to maintain his eye pressure. "My vision is now better. I no longer have difficulty driving and when I go down the stairs, I'm not afraid that I'll fall because I can't see where I'm going."
Find out if you're at risk for glaucoma in 10 to 15 minutes through EyeScan. EyeScan is available in 8 sites: Asian Eye Vision Centers in U.P. Town Center and Legaspi Towers 200; EyeSite clinics at Ayala Fairview Terraces and St. Frances Cabrini Medical Center (SFCMC); and Hi-Precision Diagnostic Clinics at Powerplant Mall – Rockwell, V. Luna, Del Monte and Taft. Or get a complete eye exam at Asian Eye at Phinma Plaza in Rockwell Center, Makati or at its satellite clinics in TriNoma, Mall of Asia and Commercenter Alabang. For inquiries or appointments, you may call 898-2020 or email us at eyehelp@asianeyeinstitute.com.