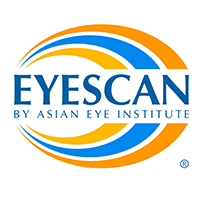 EyeScan is a pre-screening service to detect signs of sight-threatening eye problems like cataract, retinal diseases, glaucoma and cornea and external diseases.
A trained technician takes digital images of the front and back parts of the eye using a screening device. The images are then uploaded and read by certified ophthalmic image readers. Patients will receive a report that shows the images of the eyes, findings and recommendation on whether they need further evaluation by an eye specialist.
EyeScan is recommended for patients who:
Are 5 years old and above
Have never had an eye exam
Have a history of eye disease in the family
Have a history of lifestyle diseases like diabetes and hypertension
For more information you may contact:
EyeScan Reading Center
Unit 106 G/F, Commercenter Alabang
Commerce Ave. cor. Filinvest Ave.
(02) 893-6172
readingcenter@asianeyeinstitute.com